GET YOUR FREE TRAINING GUIDE!
You'll gain access to a powerful training guide:
GET MORE CLARITY, GET MORE HAPPINESS!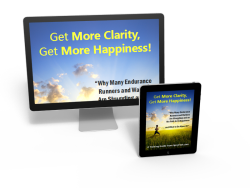 Why Many Endurance Runners and Walkers Are Struggling and on the Path to Unhappiness … and What to Do About It!
If you're an endurance runner or walker, or if you're thinking about becoming one, then you absolutely must read this controversial guide!
This e-reader-friendly training guide will explain the underlying causes of unhappiness for endurance runners and walkers, and what you should do if you want to finally succeed in taking control of it.
You'll learn:
Why so many endurance runners and walkers are struggling right now
How to tell whether YOU are on the verge of burnout
Why happiness is so crucial to your future in the sport
How to identify what your real problem is — by using simple but little-known tools that you won't hear about anywhere else
How to quickly become a happier endurance runner or walker — without buying any new gadgets, clothes, or nutritional products
"E-reader-friendly" means that this training guide, unlike most PDFs, is specially formatted to look great not only on your computer but also on your e-reader, no matter whether it is a Kindle, a Nook, another dedicated reading device, or an iPad or other tablet computer.
Get Answers to Subscribers' Single Biggest Questions
The form below asks you for your single biggest question (SBQ) related to your running or walking. When you subscribe, you will get each week a subscriber's SBQ — It could eventually be yours! — as well as my answer in an email message that is as easily readable on even the smallest smartphone screen as it is on your computer display. I respect that your time may be quite limited, so I keep each message brief and to the point.
Just Act Now!
Download your training guide — Get More Clarity, Get More Happiness! – and subscribe to my weekly SBQ message now by filling out and submitting the form below, so that you can start your journey to becoming a happier endurance runner or walker today!
This form may be unlike anything else you have every seen on the Web.
It's LONG, and here's why:
I want to build a business relationship with you. Many folks on the Web, unfortunately, will brag that they have X number of subscribers but have NO IDEA who they really are. For the continued success of you, other subscribers, and SpryFeet.com, I refuse to make you just another number.
I want to know what your challenges are. I have MANY ideas for future products, but it is NONSENSICAL to create any of them if none of them will address your challenges.
I want to support you, and I can not do that by asking only for your first name and email address. For example, I ask for your real address because, for one thing, it lets me correspond with you even when there is an issue with the Web. For another thing, having your postal address lets me send you information pieces printed at MY expense instead of at YOUR expense. And, you never know when I may want to send you a tangible item, which, until everybody has Star Trek replicators, I cannot do only through the Internet.
Health/Gratitude/Happiness,

Dr. Kirk Mahoney
Author, SpryFeet.com