Gratitude Power for Runners and Walkers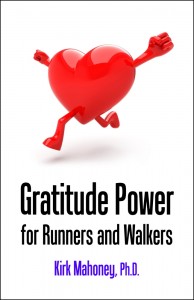 Give me five minutes a day, and I'll give you greater satisfaction with your running or walking in less than four months.
You, the runner or walker, are always looking to make time for your workouts, improve your performance, and avoid getting hurt. You wake before your family does, so you can go for a training run or walk. You cross-train and study what others do, so you can cut your chip time down to size. You work on your form and scratch your head at the shoes-or-barefoot debate, all in attempts to protect yourself from injury.
Unfortunately, things don't always work out as planned.
Is this happening to you?
You feel guilty or get annoyed — or even feel guilty because you got annoyed! — when your child or spouse stops you just as you were about to slip out the door for an early-morning workout.
Your chip times seem to be drifting upward, and you're getting angry while thinking, "What the heck is going on?!"
Your fear of getting hurt has shortened your stride and ruined your form.
Is this how you want to live?
Do happy, successful runners and walkers build their training regimens around annoyance, guilt, anger, and fear?
Of course not.
There
is

a better way.

There is a solution. It's a book called Gratitude Power for Runners and Walkers, and here's what it will do for you:
Start your day on the right foot

— in less than five minutes.

Enjoy every single aspect

of your training and racing.

Appreciate everything that supports you

as a runner or walker.

It takes a special individual.
Of course, it takes a very special individual to fully appreciate the value of gratitude.
Just think about all the conversations you've had with ungrateful runners or walkers that turned into gripe sessions … and maybe you thought:
"Wow, you are ungrateful for everything that you have."
"Have you heard about the concept of gratitude?"
"Wait, I'm not your therapist!"
Stop being a therapist for others.
You will stop being a therapist to fellow runners or walkers as soon as you take control and raise your own level of gratitude for everything in your life:
Activities
People
Places
Things
Your Body
Don't be a theerapest, either.
I have a non-runner friend who actually is a therapist.
She has a second, "country" home in central Texas where she raises chickens for their eggs. She put an old couch outdoors in the chicken coop so that she can — well, I guess — "be one" with her chickens.
Anyway, a couple of "good ol' boys" helping her one day saw the couch in the chicken coop.
Paraphrasing them, one asked the other, "I wonder why she has a couch in her chicken coop."
The other replied — and I'm spelling this how he reportedly said it — "She may know something we don't know. After all, she is a theerapest."
Read this book for your own therapy.
Gratitude Power for Runners and Walkers is filled with 900+ statements across 105 topics relevant to your life as a runner or walker.
Spend just five minutes a day reading about a topic and the gratitude statements that go with it, and you will change your life in less than four months.


Won't this take too much time?
All I ask is that you take five minutes a day to read one of the 105 brief chapters in the book.
This is a great way to start your day, to take a break in the middle of the day, or even to end your day.
Four months to get results?
Sure, it may take you a while to notice the benefits from reading Gratitude Power for Runners and Walkers, but I'm sure you'll agree that there are delayed benefits from:
Developing proper running form
Training several months for a marathon
And even brushing your teeth
Delayed benefits are still benefits nonetheless!
How can this protect me from injury?
Daily reading of some of the gratitude statements will put you in a "be here now" state of mind. This will raise your awareness of everything around you, which decreases your chance of injury.
Can this really improve my performance?
The habit of gratitude that you will develop from reading a book chapter each day will raise your level of happiness.
And, I believe your happiness affects your performance.
Plus, each chapter in the "Your Body" section provides valuable running- and walking-related reviews of human anatomy and physiology — everything from the abdominal muscles that protect your back from injury to the sweat glands that cool you off on a hot day.


What are all the benefits of more gratitude?
Part of my benefits list includes:
Engagement
Influence
Legacy
Perspective
Support
See chapter 4 for my complete list and details!
What else is in the book?
You'll also enjoy playing with the ten proven, gratitude-building techniques in chapter 5 to take your gratitude to an even higher level.
What Other Runners & Walkers Said about the First Edition (© 2011)
Gratitude creates a positive energy that changes how you interact with life. This in turn changes what happens around you. When you create a life of gratitude, you create a joyful life. This incredibly positive book shows you how. It creates an energy of gratitude that will put a smile on your face and change your life.

Bill Ferguson
Author of Get Your Power Back, Miracles Are Guaranteed, and How To Heal A Painful Relationship. Runner for thirty-five years. (MasteryofLife.com)

Dr. Kirk Mahoney has written a great resource for runners and walkers, no matter what their skill level. Developing a deeper sense of gratitude in our daily lives and for our athletic abilities will allow us to be better, more well-rounded athletes. He says it best "gratitude will help you keep things in perspective". Everyone needs gratitude in their daily living, and Dr. Mahoney offers the step-by-step process to achieve it in this book.

Colleen Murphy
Runner for eighteen months. Finisher of five half marathons. (TheFitBee.com)

This book is like a can of your favorite mixed fruits. Read the book title or can label, and you think you already know what it is about. Read the Table of Contents or list of ingredients, and you are certain you already know all about this. But, you have to open the can and eat the fruits to enjoy the flavors and nourish your body. So, consume the pages of this book to learn how to improve your running joy and performance, and actually apply what you've learned to enrich and nourish your life. From observing the author on our Saturday group long runs and reading his postings on our group forum, I know he actually practices what he preaches in his books. In so doing, he both spreads and receives smiles and cheer and friendship.

David Dunlap
Runner for two years. Randonneur of more than thirty bicycles rides of 125 to 375 miles each.

Gratitude has more meaning after reading the aspects of how to recognize and appreciate it in this very concise book. I feel I have experienced and am in agreement with the examples given, recognizing how gratitude works both in receiving and in sharing. During my six years of group training it has opened my world to better, positive outlook on gratitude. I feel the gratitude both physically and mentally. Thank you for sharing this valuable aspect in our daily lives.

Edward G. Campos
Walker for six years. Finisher of twelve marathons and two half marathons.

This book should be part of your training program if you are new to running or walking. It can be used as a reference for those who have been active a while and are searching for a new approach to their training. As a runner for over 8 years now, I found myself learning new techniques to practice and discovered a fond appreciation for my sport and all the people that come together to make things happen. This book encompasses zen-like techniques and creates a private meditation state for the runner that transcends them into a whole other realm past time and distance. It teaches us to appreciate our running and be thankful for every mile we go beyond as we get closer to our goal. While most running books on the market focus on faster times, this book goes beyond that by teaching us to find a sort of inner peace as we run, where we become one with everything around us. I completely recommend this book and hope you, the reader, will benefit as much as I did.

Rebecca Yzquierdo
Featured runner in Run Like a Girl. Runner for over eight years. Finisher of twelve marathons and twenty half marathons.

Gratitude Power for Runners and Walkers is uplifting and captivatingly optimistic. Dr. Kirk Mahoney teaches the reader techniques to develop gratitude, thereby raising your awareness, engagement, and motivation. Dr. Mahoney inspires you to get more joy, fulfillment, and meaning from your activities. A thorough range of topics related to running and walking are explored, highlighting the value and benefits of each aspect of training. Even as a seasoned marathon runner, I gained insight and new knowledge. Dr. Mahoney's perceptions are beneficial both in training and in life and will promote a positive, healthy outlook to runners and walkers!

Sara Wolf
Author of Beating the Bridge: Make Choices that Empower and Inspire. Finisher of five marathons and eight half marathons.

Dr. Kirk Mahoney has hit on one of the most important factors in developing a long-lasting health habit: giving it meaning. When exercise is not just for the sake of exercise, but rather for something bigger in your life, it is more likely to become part of who you are and you will be able to stick with it more consistently for that reason. It is the difference between "working out" and living an active life. I also love his focus on gratitude as a way of getting more out of the experience of running, walking or any physical activity. As an obesity scientist and clinician, the people that I have worked with who have been successful at achieving a healthy weight routinely take advantage of the community and resources (both at the grassroots and professional levels) that is available to assist their journey to physical fitness and health. Accepting and being grateful for the people around us who can support our journey is a necessary part of the journey. In this book, Dr. Mahoney shows us precisely how to create a more meaningful and fulfilling, physically active lifestyle. This is a necessary read for anyone starting off on that journey or well on their way.

Sherry Pagoto, PhD
Associate Professor of Medicine, University of Massachusetts Medical School. Runner for twenty years. (FUDiet.com)

Is your running in a rut? Do runs have a sameness to them so that they've slipped back to simply being part of your routine? Do you not look forward with eager anticipation to training runs or races? If so, Dr. Kirk Mahoney's book Gratitude Power for Runners and Walkers is for you. In it, Dr. Mahoney offers thoughtful insight and useful checklists for over 100 aspects of running you can use to charge or recharge your joy of running. Each checklist has 10 or so entries, so that's over 1,000 reasons to run! The aspects are neatly subdivided into Activities, People, Places, Things, and Your Body. Some are meat and potatoes (e.g., races, trails, running specialty stores), while others are quite whimsical (e.g., body washes, toenail clippers, even your intestine). Everything is clear and nicely laid out so the book can serve as a reference or as a go-to document when you're seeking special inspiration. Perhaps the next edition will be a page-a-day calendar? I recommend Gratitude Power for Runners and Walkers for all runners and walkers, and think the book would make a great catalyst for the aspiring runners and walkers in your life as well.

Steve Shepard
Marketing Director, Dreams in Action. Lifelong recreational runner. Competitive runner for nineteen years. (MarshallUlrich.com)

When I became a runner, I fell in love with the running community. I was drawn to the positive and uplifting spirit that permeates running events and the encouragement and inspiration I absorbed during weekly runs with my group. Dr. Mahoney's book sums up the source of all this positive energy: gratitude, and the acknowledgment that "much had to be in place for our success to occur." Runners and walkers are an inherently grateful group, but the detailed gratitude statements in Gratitude Power for Runners and Walkers are a terrific tool to remind us of the many people, places and things that contribute to our happiness as active and healthy members of the running community. Gratitude has remarkable power. Add it to your daily routine, and your spirit will be transformed!

Susan Purcell Schlemeyer
Co-Race Director, Houston Run for Recovery. Runner for ten years. Finisher of thirteen marathons and countless half marathons. (HoustonRunforRecovery.com)
Get It Now
Get Gratitude Power for Runners and Walkers here:
Review It at Goodreads

Reviews at Amazon.com
CERTAIN CONTENT THAT APPEARS ON THIS SITE COMES FROM AMAZON SERVICES LLC. THIS CONTENT IS PROVIDED 'AS IS' AND IS SUBJECT TO CHANGE OR REMOVAL AT ANY TIME.
Preview