About
SpryFeet is about building and protecting your happiness as an endurance runner or walker so that you perform better. SpryFeet followers are endurance athletes who want to improve their performance while enjoying the journey. Using road-tested techniques — not unproven theory — Kirk has uncovered and documented ways that show this exclusive group how to be happier with their athletic performance through his techniques.
SpryFeet followers know these two key truths:
Truth #1: Performance affects happiness.
Truth #2: Happiness affects performance.
Everyone knows truth #1. Very few know truth #2. Or, if they know it, they ignore it.
As someone who has completed more than a dozen marathons, Kirk meets and trains with many people who
(a) took up endurance running or walking recently or
(b) are long-time endurance runners and walkers.
But, here is the sad part: the joy of the sport is gone for many of them.
Maybe they took up endurance running or walking to lose weight, but then maybe they got sidelined by injuries. Or, maybe they have never gotten injured, but their workouts have gotten into a rut. Whatever the reason for their lack of joy with — or, worse, their antipathy toward — endurance running or walking, this is so unnecessary.
Worse, it damages their performance, which, in turn, damages their happiness. (See truth #1.)
Most people don't fully understand the dynamics of performance and happiness. They start with measuring their performance and then obsessing about improving it no matter what, but that's the last thing on which they should focus. Happiness should come first. Kirk looks at building and protecting your happiness before worrying about whether you're following the right training schedule, for example.
Kirk offers a better way. Kirk offers tips and techniques that will, first and foremost, protect your happiness as an endurance athlete. This is the polar opposite of what you will see most celebrity athletes doing. And the worst move you could ever make is copying everything that they do. First, they are not like the rest of us. Second, given their super-human abilities, they are not necessarily aware of the dynamics of performance and happiness. Kirk teaches you a different way — a better way.
If this seems complicated, don't worry; it isn't. You'll quickly adopt Kirk's techniques and start to see results.
Meet Kirk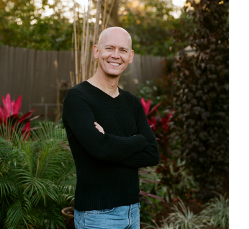 "Practical research for runners and walkers" was the original tagline for SpryFeet. It was based on the fact that I love to run and walk, earned a Ph.D. from UCLA School of Medicine in a very practical field of scientific research called biomathematics, am a master at looking up stuff better than almost any librarian, and love to write about what I learn.
But soon after I published my first two books for runners and walkers, I had an epiphany. I was completing an exercise with a business coach, and I discovered that my top five core values were — and still are — integrity, growth, health, gratitude, and happiness.
Then it dawned on me. The real reason that I launched SpryFeet in 2009 was to satisfy these core values while serving runners and walkers, and, more specifically, endurance runners and walkers.
"I should reposition my website!" I realized. And so I have.
Happier Running and Walking — GUARANTEED!™ became the new tagline because it is my higher calling that I am compelled to share.
My mission is to help you to kindle happiness in your endurance running or walking while you enjoy growth and better health from the sport.
I strive to satisfy my mission while I serve you with gratitude and integrity.
"I believe happiness affects performance." is my personal motto, and you can see this in everything that I offer. I strongly believe that your beliefs about yourself and how you think about your challenges affect how successful you will become as an endurance runner or walker. Unfortunately, most people do not understand that they must value their mind as their most important asset in creating athletic success and happiness.
My background
My entire working life has been about communication — from many different angles, and always in the service of others. Long before launching SpryFeet, I had the privilege and honor of being a medical photographer at a teaching hospital for many different medical and dental residencies. I also got to collaborate with the world's best researchers in positron emission tomography (PET). I developed the first websites for some of America's top plastic surgeons and dermatologists. I have helped the largest telecommunications company in the world launch and troubleshoot Internet-protocol television (IPTV). This work led to my being issued U.S. Patent # 8,223,954. And, I created KirkMahoney.com as a place to discuss English punctuation, spelling, and grammar.
SpryFeet continues that communication thread through my working life as my very personal way to make the world a happier place.
Word-of-mouth is one of the most common reasons why people first visit SpryFeet.com. For example, an interview of me on BlogTalkRadio is one of the most popular interviews that the interviewer has done there. As another example, 58% of respondents to a SpryFeet survey said that a friend was responsible for them hearing about SpryFeet. And I feel very grateful for every one of my email subscribers, book buyers, report downloaders, and article readers, as well as everyone who has written a testimonial for one of my products.
You may also see SpryFeet in the news, such as on Google News right after I launched the "Alert and Alive" pledge campaign, which urges runners and walkers to use cellphones safely on the road or trail.
Why I live where I do
I live in Houston, Texas, which is the best place for me to do what I do. It is home to the USA's premier volunteer-supported marathon. Although it has the dubious distinction of being twice awarded the title of "America's Fattest City" by a men's magagzine, Houston has a vibrant community of runners, walkers, and triathletes served by several group-training programs. The city has weather conducive to running and walking all year long, even if we must get up extra early during the summer to avoid Houston's famous heat and humidity. More than 10,000 runners and walkers daily use the exercise trail in Houston's largest urban park, which is larger than New York City's Central Park, gets more than four million visits yearly, and has twenty miles of trails. And I would dare say that Houstonians have driving-distance access to more foot-races annually than any other city on Earth.
I love to hear from readers like you.
My books are sold in twenty-five countries … and counting! Please let me know how I am doing and how I can serve you better.
Leave a comment below each article that you read here.

Tell me what you like.
Tell me where you disagree.
Tell me what else you want.

Go to http://www.spryfeet.com/contact/ to learn how to reach me in many other ways.
Two more things
For my protection and yours, I want you to know the following information:
DISCLAIMER: The information contained on this website, including ideas, suggestions, techniques, and other materials, is educational in nature and is provided only as general information and is not medical or psychological advice. Transmission of the information on this website is not intended to create, and receipt does not constitute, a client-coach or any other type of professional relationship between the reader and Kirk Mahoney and should not be relied upon as medical, psychological, coaching, or other professional advice of any kind or nature.
You may see me on this website or in an email message recommend a product or service for which I may have an affiliate relationship. But I only recommend products and services that I would recommend to my friends and family members.
For example, I recommend Thesis WordPress Theme not only because I have an affiliate relationship with the creator of this product but also because I use it to power this website!
The U.S. Federal Trade Commission makes me post a consumer notice like the following, even though you very likely already know this.
CONSUMER NOTICE: You should assume that any mention of a product or service on this website or in any email sent from this website may be made because the publisher of this website could have an affiliate relationship and/or another material connection to the provider of the mentioned good or service and may be compensated when you purchase from said provider. You should always perform due diligence before buying goods or services from anyone via the Internet or offline.