Texas Marathon 2011 – Review
I completed the Texas Marathon in the Kingwood neighborhood of Houston, Texas, on 1 January 2011. Here is my review of the good and bad aspects of the 2011 event.
Exposition
Not Applicable: No exposition!
Toilets
Good: Public restrooms and several portable toilets near start/finish line
Good: Portable toilets at many water stations
Start line
Good: Efficient start (~2-3 minutes total)
Good: Beautiful outdoor assembly area
Police
Water-station people
Good: Cheered racers onward
Water stations
Good: Heavily manned
Good: Always had water
Good: Spaced appropriately
Bad: Gatorade depleted at one station before all participants had finished
Bibs
Good: Racer name in large font, so readable by spectators
Spectator turnout
Good: Encouraging words from local residents who lived along the course
Bad: Relatively sparse
Good: Participants acted as fellow spectators, given the 2- and 4-loop nature of the half marathon and marathon, respectively
Timing mats
Good: Reliably picked up timing chips on shoes
Bad: Only at start line and finish line
Course
Good: Very flat
Good: Volunteers at every intersection that required crossing a public street
Good: Shaded by pine trees across most of the course loop
Good: Beautiful scenery, including Lake Houston
Weather
Good: Breezy but not windy
Good: Cool temperature throughout race
Race photographers
Bad: Very sparsely distributed on course
Good: Visible (in bright-yellow shirts) to approaching racers
Finish area
Good: PA announcement of finishers' names and cities
Good: Duck cap and finish-position rubber ducky given with medal
Good: Medals not put over heads of finishers (See below!)
Medals
Good: Perhaps the largest and heaviest marathon medal in the world, at 8″x8″ and 3.3 lbs., compliments of Metal Sawing Technology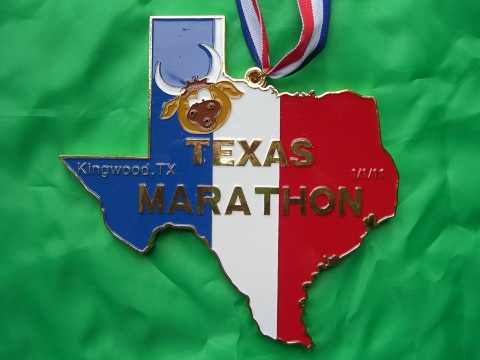 Post-race area
Good: Shaded areas and picnic tables
Good: Plenty of electrolyte drinks, cookies, fruit, and constantly-delivered, hot pizza
Bad: No medics
Conclusion
I give Texas Marathon an "A" grade for the 2011 event. Overall, the good far outweighed the bad, and the organizer could easily eliminate most, if not all, of the bad to make this an "A+" event. I highly recommend this event, not only for what is probably the world's largest marathon medal but also because it is a great way — in a beautiful location — to start the new year. Just remember that there may be no police or medics to protect you.
Have you had a similar set of experiences? Where? Please leave a comment. Thanks!
How Big Is It?
Here is the 2011 Texas Marathon medal next to the 2009 San Antonio Rock 'n' Roll Marathon medal, which is a typical-size medal: