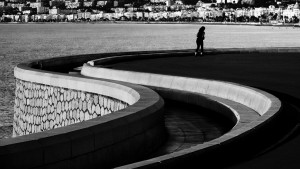 "Happiness and the J Curve" became obvious to me as an article that I ought to post here after I read about the J curve in the book Thanks for the Feedback: The Science and Art of Receiving Feedback Well.
(Aside: This excellent book teaches you as the receiver of feedback how to recognize different types of feedback and to put the power of feedback into your hands instead of into the hands of the giver.)
What is the J curve?
When it comes to the topic of happiness, it is a J-shaped curve plotted on a two-dimensional graph, with the horizontal access representing time and the vertical access representing happiness.